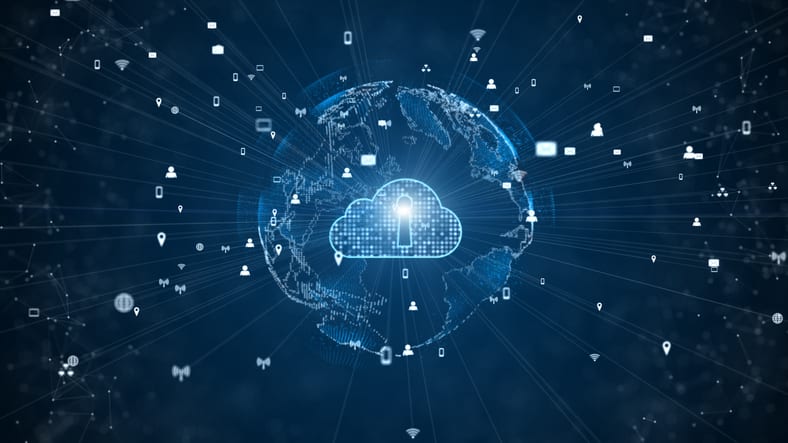 Businesses have moved beyond cloud migration and onto cloud strategy. Most organizations have at least a portion of their data or applications on the cloud. Additionally, enterprises are opting for a multicloud or hybrid approach by combining several clouds or cloud types.
In looking at strategy, organizations are eager to take advantage of all the benefits the cloud offers, like scalability, availability, redundancy, and reduced costs. What companies may not understand is that the wrong cloud configuration could actually cost money and reduce efficiency.
Outsourcing cloud management to an experienced IT partner can ensure that you maximize the benefits of the cloud.
Here are five reasons to outsource your cloud management:
1. Expertise
There is no one size fits all approach to the cloud.
An experienced IT partner works with you to implement a customized cloud solution that supports your business goals while maintaining security and compliance.
Taking a multicloud or hybrid cloud approach requires an expert who is familiar with unified cloud management.
Smaller IT teams may not have enough experience or the right tools to deliver the right cloud solution.
Improper configuration of the cloud can reduce productivity, availability, and security, along with spikes in usage costs.
Experienced Managed Service Providers (MSPs) offer expertise throughout the cloud journey, including strategic planning, data migration, and maintenance.
A customized cloud solution with a knowledgeable IT partner will provide a consistent experience with predictable costs.
2. Free Up In-House IT
Small in-house IT teams can become bogged down by daily helpdesk tasks, which prevent them from focusing on cloud optimization and security.
MSPs typically have access to more robust tools and can dedicate a team of engineers to your organization's infrastructure.
With an MSP managing your cloud solutions, your in-house IT team can focus on other projects that directly support the business.
3. Increased Security
As organizations continue to make remote work a part of the new normal, cloud vulnerabilities have caught cybercriminals' attention.
To maintain security and compliance, you need the right access controls, regular vulnerability management, and active monitoring.
Even if your company has comprehensive cybersecurity tools like a security information and event management (SIEM) platform, many in-house IT teams lack the necessary expertise to use these tools to their full potential.
MSPs often use more sophisticated tools allowing them to achieve greater visibility into your infrastructure.
Some MSPs like Coretelligent, have in-house security analysts who have specialized skills in areas like forensic analysis.
Security analysts can see the correlations between security incidents, which mitigates risks and decreases the response time to incidents.
4. Better Performance
If you are experiencing poor performance from the cloud, it could be because of how it was designed or deployed.
MSPs can provide better cloud performance because they have more experience architecting and managing cloud infrastructures.
MSPs also tend to have larger teams, so they can dedicate engineers to monitoring your cloud infrastructure around the clock, allowing them to fix problems in real-time.
5. Reduced Costs
The cloud allows businesses to move costs from capital expenditures to operational expenditures.
When implemented appropriately, the cloud can reduce overall IT costs allowing organizations to focus on strategy instead of hardware.
Public clouds often have a pay-as-you-go model causing some companies to experience unexpected spikes in billing.
MSPs are often able to provide predictable billing with cloud services, making budgeting easier.
Find an Experienced IT Partner
To maximize the benefits of the cloud, you need an experienced IT partner. Coretelligent has years of experience building and supporting customized cloud infrastructure. We have a cloud agnostic approach ensuring your cloud solutions are built around your business goals.
Our IT planning services will ensure that you are optimized, secure, and compliant. With our CoreArmor, cybersecurity solution, our U.S. based in-house support team monitors your infrastructure 24x7x365.
Are you looking to outsource your cloud management? Contact us to learn how Coretelligent can help you harness the power of the cloud.
Read our blog: Your Cloud Solution Must Include a Strong BDR Strategy, to learn how to create IT resilience in a cloud-based world.