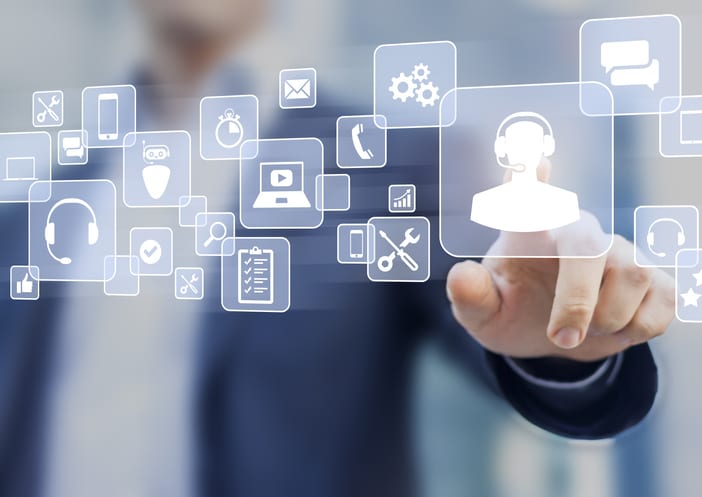 Even with all of the available technology solutions, one of the biggest challenges you will continue to hear from technical teams is lack of time. Everything from upgrading current platforms to researching new solutions requires dedicated focus, and the ability to shut out all by-the-minute frustrations and do the work required to move your organization into the future. It's not surprising to find that many business professionals feel as though they are being shut down by IT teams and attempt to "go rogue" — something that would be less likely to happen if IT teams are able to meet their needs more quickly. Outsourced IT solutions is a cost-effective and practical way to solve these challenges.
As the cost of cybercrime around the world rises into the trillions and companies look to IT for differentiation, it's clear that something in the traditional business model that includes standalone internal IT teams simply must change. Working with a trusted and reliable outsourced IT provider offers a way for internal teams to retain control of their solutions while offering ways to expand the reach of technology to support new and unique business models.
Help Team Members Focus on What Matters the Most
Time and resources are always a constraint for businesses, so how do you choose where to focus your efforts and attention? Technology is ever-changing, and it can be extremely difficult for small teams to find the time to keep new projects moving forward and support a complex IT infrastructure. When you work with an outsourced IT services provider, your internal teams suddenly gain hours each day — time that isn't spent tracking down passwords, freeing up storage solutions, administering software and more. This helps boost the focus for your over-leveraged technical teams, allowing productivity to skyrocket on these critical innovations your business requires.
Gain Access to Enterprise-Scale Solutions
It's easy to envy enterprises with their near-unlimited resources, extensive IT budgets and expansive technology teams. Fortunately, IT managed services providers are able to provide you many of the same resources used by these larger companies without the upfront investment or ongoing costs that are usually required. Since an outsourced IT company works with many different clients, they can often afford to provide you with enterprise-scale solutions for network infrastructure, VoIP calls, data storage and cybersecurity. Plus, you're not tasking internal teams with learning yet another software platform — instead, you are relying on a trusted partner to administer these solutions using ever-changing industry best practices.
Enhance Your Cybersecurity Profile
Government technology leaders agree: cybersecurity is on the rise and your company has never been at greater risk. Companies of all sizes are vulnerable to these rising attacks, 2021 saw a year over year 17% increase in reported attacks . Without a robust and multi-layered approach to security, you are putting your company in a dangerous situation. Remediation after an attack is extremely costly, with companies citing losses of millions of dollars per data breach for remediation, customer notifications, lost revenue and more. Having access to the enterprise-scale tools and information you need to maintain business operations is a mission-critical endeavor for organizations — particularly those in the life sciences, financial services or other high-touch, fast-moving businesses.
Empower Business Teams with Rapid Problem Resolution
When your business teams are confident that their problems can be quickly resolved, they are able to reduce their stress levels and the time spent on stressing over any technical issues. Having the least amount of uncertainty in your business processes can cause teams to fall into a low period in terms of activity, particularly in complex projects with many moving parts. Outsourcing your IT help desk support provides the peace of mind your teams need to know that any reported problems can be quickly resolved — allowing teams to maintain their forward momentum on important projects.
Improve Your Customer Experience
Are your customers citing issues such as slow response times to customer service inquiries, the latency on your websites or other problems that can be tied back to your network operations or data storage solutions? Having a single point of contact for your IT infrastructure and help desk solutions helps aggregate these issues and allow them to bubble up for quick remediation. Your customers will appreciate the ability to rapidly access their information and your services, and reward your company with additional revenue and improved reviews. Customers are unwilling to wait for information or service answers for more than a few minutes. Don't frustrate your clients and your staff with slow-moving networks that don't offer the optimal experience.
Pulling together all of the various aspects of your IT solutions often requires working with several different service providers, but that's not the case when you partner with Coretelligent. Our deep experience in a wide range of industries allows us to leverage cross-functional knowledge to provide the smooth and exceptional IT support that your company deserves.