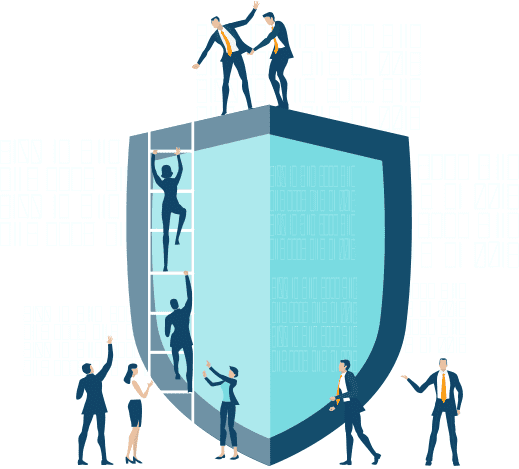 Reducing your organization's risk from cyber threats requires a holistic approach. Cybersecurity should be integrated across all divisions and at all levels. Cybercriminals do not recognize your internal organization or care about job titles but seek to exploit any weaknesses they discover.
Cyber threats threaten your ability to operate, your reputation, your bottom line, and even the survival of your organization.
The foundation of effectively managing cyber risks requires building a culture of cyber readiness amongst your employees. Most cyber incidents begin with a human action—phishing attacks, ransomware attacks, malicious software, malware attacks, and other persistent threats usually start with an employee unknowingly initiating them by clicking on a malicious link or trigging malicious code by opening an attachment.
How to Effectively Protect Your Organization from Cyber Threats?
How can you, as a leader, promote a culture of cybersecurity readiness to reduce your risk from these types of threats? Here's a high-level, holistic roadmap for considering how best to incorporate security throughout your firm to defend your organizational assets.
→ Executives – Drive cybersecurity strategy, investment, and culture
As a leader, it is essential that you understand the basics to help integrate cybersecurity as a significant component of your operational resilience.  And that resiliency requires an investment of both time and money. This investment will fuel actions and activities that build and sustain a culture of cyber preparedness that will protect key infrastructure and intellectual property.
→ Employees – Develop security awareness and vigilance
Employees are a critical line of defense. Gone are the days when security threats were the sole responsibility of the IT team. Securing an organization in this current cyber threat landscape requires education, awareness, and participation from all. Therefore, any investments in cybersecurity must include strong end-user training.
---
Related Resource → 7 Cybersecurity Tips for Practicing Good Cyber Hygiene
---
→ Systems – Protect critical assets and applications
Data is the foundation of any business; it is the most valuable asset. Know where your data resides, know what applications and networks store it, and know who has access to what data. Build security into the critical infrastructure of your organization's data to protect against outside attacks.
→ The Digital Workplace – Ensure only those who belong have access
Implement authority and access controls to manage employees, managers, and customers' access to your digital environment and protect against unauthorized access. Setting approved access privileges requires knowing who operates on your systems and with what level of authorization and accountability.
→ Data – Make backups and avoid the loss of information critical to operations
Even well-protected systems can be breached if someone makes a mistake. Therefore, make protecting data a priority by implementing a thorough a robust backup program. Additionally, develop a plan that will allow you to quickly recover systems, networks, and data if a breach occurs.
---
Related Resource → Think About IT: The Case for Cloud Backup
---
→ Incident Response – Limit damage and quicken restoration of normal operations
The strategy for responding to and recovering from a cyber incident involves developing an incident response plan and regularly evaluating that plan and preparing for its use for business continuity during a crisis.
3 Strategic Actions to Tackle First
Defend Against Cyber Threats with Coretelligent
Balancing business initiatives with security and technology can seem challenging, but Coretelligent can help. We provide white-glove, fully managed, and co-managed IT services to highly regulated industries like financial services and life sciences. In addition, our comprehensive security and backup and disaster recovery solutions work for you around the clock so you can have peace of mind. To learn how Coretelligent can help your business, contact us at 855-841-5888 or via email at info@coretelligent.com.