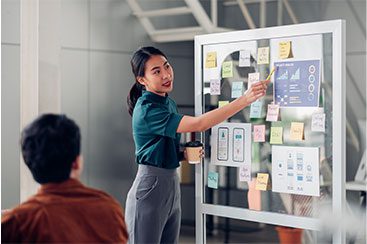 The way we interact with technology has undergone a permanent change.
Customers now communicate virtually, make in-browser or in-app transactions, and manage accounts and sign-ups online without ever touching paper or interacting in person. Covid-19 accelerated how technology transformed business, amplifying the need for new digital processes, and our inevitable adoption of them.
The pandemic forced businesses to modify their workflow and service delivery to accommodate changes like remote work and the move away from brick-and-mortar establishments. Businesses needed to rapidly reevaluate their IT infrastructure and put mechanisms in place so they could continue to provide service and stay competitive while adapting to a changing world.
This disruption acted as a global case study for the vital need to embrace the importance of digital transformation in business. And it worked: according to Gartner's Top Strategic Technology Trends 2023, "94% of CEOs want to maintain or accelerate pandemic-driven digital transformation."
So, what is digital transformation?
Digital transformation is the strategic adoption and implementation of digital technology to enhance customer experience and drive success.
From the wheel to mobile phones, technology has always been a part of our lives. The switch to digital technology is the first step towards a digital transformation. At the most basic level, this means transitioning away from all things analog, a process referred to as digitization. A common example of digitization would be a company taking data from physical repositories, such as on-premise servers or physical paper files, and moving that data to the cloud.
Inherently, moving from analog to digital means adhering to new processes that are baked into the new platform, tool, or technology that is being used, adjusting how business is conducted to suit, and using these adjustments as opportunities for change—this is digitalization. Instead of accessing a physical file cabinet to find a document, digitalization requires you to access that same data from a cloud-based content management system and follow out-of-box steps to complete tasks such as secure file sharing. This can fundamentally change the way a business runs. For instance, the process above could be the first step towards a remote work transition.
But digitized data and digitalization are only as good as what you do with their potential. Transformation is critical to developing strategy that leverages the power of both in a way complementary to your business needs.
Getting Started with Digital Transformation
Digital transformation begins with evaluating how workflows, operations, and customer success can be served better using digital technology. Expertly crafted strategy is then developed to address challenges, optimize processes, and support goals as they shift and scale. Following development, integration, implementation, and deployment of required services, digital transformation experts can provide training and support to maintain enthusiastic user adoption.
Let's consider our example scenario above. While the company may have gained better organization and collaboration upon digitizing their data, they may still be unsatisfied with their technology investment. An evaluation conducted by digital transformation experts might uncover that the company's team continues to struggle with data entry errors and time-consuming reporting due to manually entering data from paper forms into spreadsheets. A digital transformation strategy could include identifying ways in which the company could leverage their current technology platforms to streamline processes to capture data more securely and effectively, automate reporting, and even provide on-demand visualizations in dashboards available on mobile devices.
Digital transformation experts are key to identifying roadblocks and building strategies to help businesses overcome hurdles. By developing strategy that incorporates how to leverage the key components of your technology environment, digital transformation strategists can identify how those technologies work with existing architecture and platforms to address needs, provide opportunities for growth and enhancement, and suggest ways to economize and generate revenue. Digital transformation also considers how both business users and customers will interact with and benefit from these enhancements to ensure that all parties utilize them.
Digital Transformation Services
Digital transformation encompasses many technologies and service types. As a digital transformation service provider, Coretelligent has identified the following solutions as the most significant and sought-after digital transformation services for our clients:
In addition to being game changing standalone services, the importance of digital transformation in business is best exemplified in the way these services can work together for an even more robust impact. These services are also highly complementary and able to provide robust value as total digital transformation solutions.
Here are some of the more common digital transformation solutions:
Mobile app development, including UI/UX services, application integration, data warehousing, analytics and visualizations, automation services, microservices, support services
Website redesign, including website development, UI/UX services, ecommerce, data management, API integration, maintenance, enhancement, and support services
Workflow automation, including end-to-end automation services, data quality, data analytics, visualizations, and compliant infrastructure
Coretelligent's digital transformation experts can deliver the services you need to stay competitive and agile over the competition. Coretelligent will assist you in maximizing the potential of your digital transformation from development through support using a comprehensive build-and-operate approach. We will work with you to evaluate your business needs and challenges and develop a strategy that makes use of the best available technology and your existing IT infrastructure. After deployment, we'll make sure your solution keeps working for you by providing the maintenance, improvements, and support you need. Learn how Coretelligent can help you recognize the importance of digital transformation for your business and help you gain a competitive edge with our CoreDTS solutions.