Thoughts from Coretelligent's Chief Technology Officer, Chris Messer
Regular technology assessments are critical to ensure your organization has the right tools to enable employees to perform their job efficiently and successfully. These exercises are designed to measure and validate performance, security, workflows, and identify potential deficiencies in your technology platform to better serve your business now and beyond. Software and IT hardware are all critical tools to your business, but all tools have a finite lifespan and should be reviewed to determine if they should be replaced and/or upgraded. Your current and future systems, including computers, network systems, and all supporting equipment, should be assessed at least annually to confirm they are providing optimal performance and that you are not missing out on new products or enhancements now available.
Wondering where to start? Let us discuss how to determine what internal systems may need improvement, most critical data to assess, necessary steps to conduct assessments, and how your MSP partner and IT solutions can serve you.
Do Your Current Systems Need Improvement?
Our new normal has changed the lens of what accessible technology we need and are using day-to-day. If your current systems are not top performers, you should decide if it is cost-effective to find replacements. Where possible, you can run diagnostics tests to discover what factors may be limiting or otherwise preventing high performance. Download our guide, How to Determine Improvements for Internal Systems, for more information.
If you find that your current systems are performing well, remain secure for remote access, have the right features, and are refreshed, great news! Perform new diagnostic tests six months from your initial query for best results. Your engaged MSP partner is an available resource for you to contact if needed to confirm the best steps for your business.
The Most Critical Data to Assess
Now that all current internal systems have been evaluated and you have come to the conclusion it's time to find new ones, before performing your technology assessment, it is critical to think about what data will be the most important to gather. Essential data includes boundaries for evaluation, budget expectations, and flexibility, to name a few.
When setting boundaries, think about the technology's features and functionalities, business challenges you may need to solve, and the reputability of the manufacturer. As we are approaching the end of the year, budget is front of mind for many of you, and where there is space to improve productivity or security for your new technology, account for it. If you are purchasing technology with licensing, how flexible are the models? It is best you know in advance whether licenses are per workstation or per company to ensure you are getting the most reward for your dollar.
How to Conduct a Corporate Technology Assessment

The main steps in conducting a technology assessment are to establish requirements, conduct market research, create a list of vendor finalists, conduct a demo or proof of concept (PoC) phase, and then move to final ordering, procurement, and deployment. Once you identify the key requirements, features, and improvements you are hoping to achieve with the adoption of a new technology, you can take some time for market research and learn what others are saying about the systems you found within your budget. Read reviews or market reports to make sure the new technology appears to be received well by other purchasers and businesses and is appropriate for your needs. If everything sounds seamless, procure those devices, and prepare for setup!
During your research step, if your business is operating remotely or has plans to remain remote, it's important to think about if your technology and software are safe, effective, and functional for your employees while they are not strictly tied to the office.
Your MSP Partner, Coretelligent, is Here to Serve You
Our recommendation to our clients and prospects is to perform technology assessments on their current and future internal systems for high productivity, cost-effectivity, and to keep operations safe and secure. Coretelligent is here to offer support in any way you need while performing your assessments. We can provide advice on technology offerings and apply strategic IT solutions to protect your infrastructure. We are here to make sure your technology plan and systems align with your business strategy to reduce risks and promise optimal performance.
Regardless of your challenges, our project managers and engineers will learn your business, your IT and technology needs, and resolve issues quickly and accountably. If your business is not currently working with an MSP provider, schedule a no-obligation consultation with Coretelligent today.
For additional technological counseling and to learn how to invest in strong collaboration technology, download our Technology Checklist for Achieving Greater Alpha.
---
About Chris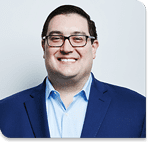 As Chief Technology Officer, Chris Messer is a transformational and strategic IT leader who establishes and leads Coretelligent's technical vision and technological development.