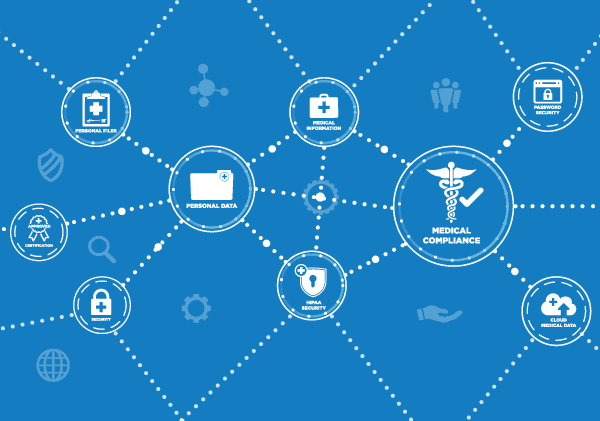 Healthcare businesses face mounting regulations these days. But ask any healthcare provider, "What is HIPAA?" and they will certainly tell you it's the most important regulation of all. But what is HIPAA compliance?
Understanding HIPAA and how to adhere to it is vital not only to healthcare providers but to those who support them, including IT providers of cloud-based tools, storage media, and hardware.
---
What is HIPAA Compliance?
HIPAA, short for the U.S. Health Insurance Portability and Accountability Act of 1996, is a federal act that enforces specific laws and regulations to safeguard the privacy and security of patient data, also known as protected health information or PHI.
HIPAA compliance refers to the implementation of specific security, privacy, and operational measures required to protect sensitive patient health data. This includes an array of actions and oversight that must adhere to specific federal regulations, including secure storage, transaction, and disposal of patient data, safeguards against data breaches and unauthorized disclosure, and data encryption.
Who needs to understand HIPAA?
The meaning of HIPAA compliance must be understood by several market segments:
Healthcare Providers
Healthcare providers must understand the meaning of HIPAA compliance and be equipped to properly manage PHI, including medical records, financial information, and personal identifying information (PII). Healthcare providers that violate HIPAA rules and work outside of HIPAA compliance are at risk of fines and penalties.
Patients
Patients benefit from having a basic understanding of the meaning of HIPAA. Awareness of how healthcare providers are required to treat their information allows patients to be equipped to advocate for their rights and be alert for dubious practices.
Insurers
In addition to doctors and healthcare facilities, health insurance providers must also adhere to HIPAA, since handling PHI is also part of their daily operations. Medicare and Medicaid providers, employer-sponsored health plans, and organizations managing private insurance sales must all be aware of HIPAA requirements.
Information technology (IT) providers
Two major provisions of HIPAA have to do with information: the HIPAA Privacy Rule and the HIPAA Security Rule. In a nutshell, these rules govern how patient information should be handled and how it should be kept safe. IT providers must be aware of both rules since it will fall to them to create and maintain secure infrastructure for digital PHI.
---
  Related Content – Therapeutics Company Benefits from Compliant Infrastructure Case Study
---
How does IT impact compliance?
HIPAA and IT connect on two major points: information handling and information security. Here's how:
HIPAA compliance requires dedicated personnel.
Here, "dedicated" calls for a specific person in the organization to be directly responsible for putting policies in place for HIPAA compliance. An enterprise organization may hire a privacy officer specifically to oversee these requirements, while a small doctor's office may appoint an office manager to manage requirements; each approach is valid and must consider the needs and capacity of the business.
HIPAA requires a basic strategy.
One of the key points that dedicated personnel will be responsible for is HIPAA compliance strategy. That person will subsequently work with IT providers to establish the framework for security and compliance operations.
HIPAA demands basic security principles.
IT providers must take special care to understand the HIPAA requirements for security and privacy of PHI. While security appliances and antivirus tools will be useful, this is just the beginning. Policies like Unique User Authentication and access control are critical. The IT provider working with the dedicated HIPAA officer will offer further recommendations accordingly.
Don't forget disasters.
One key component of HIPAA compliance planning is creating a disaster recovery plan. Healthcare providers must have such a plan in place that allows PHI to be continuously available, even during a disaster. Disaster recovery plans offer benefits beyond compliance, including cost savings and improved customer experience.
Test and assess.
Once a disaster recovery plan is in place, testing and assessment will be required to ensure it delivers as promised. As security needs change, and new threats emerge, the disaster recovery plan will continue to evolve. Thus, staging new plans, and testing these routinely, is crucial to the ultimate success of HIPAA compliance.
Some Miscellaneous Points About HIPAA Compliance
Basic requirements
HIPAA requires a standardized format for all stored data, whether it's health, financial, or administrative. Each healthcare entity needs a unique identifier, though an ID number will work.
HIPAA Compliance Best Practices
HIPAA contains a set of best practices that mandate HIPAA compliance as part of its Security Rule. Though these standards cover a lot of ground, sticking to them will ensure the clearest path to compliance.
Need HIPAA Compliance help?
There's no way around it: HIPAA compliance is a massive undertaking, but Coretelligent can help you through the labyrinth of HIPAA requirements, rules, and regulations. Get in touch with us to learn how Coretelligent can help you establish security principles, address compliance issues, and generate disaster recovery plans and systems.