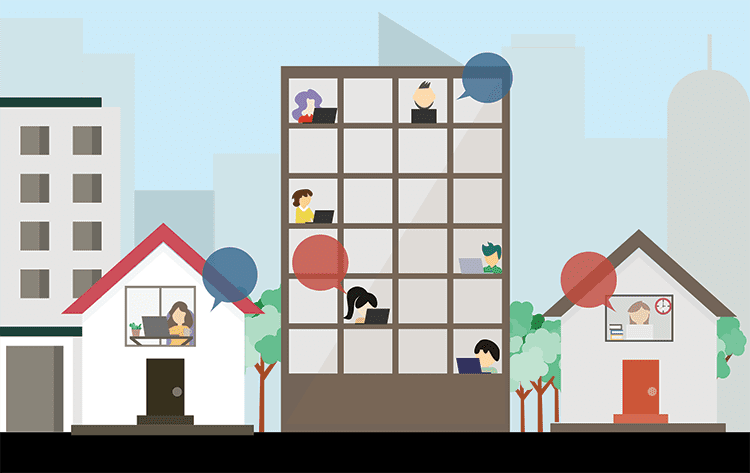 Similarly to 2020, when many businesses shifted to remote work in response to COVID-19, the hybrid workplace has emerged as the new normal for 2021 as U.S. companies respond to current conditions and plan for the future. And while there are many advantages for both companies and employees, the hybrid workplace has challenges. The biggest is facing two fronts on the cybersecurity battlefield.
Protecting an organization from cyberattacks is tough enough without having the added responsibility of protecting an organization's network and data both on- and off-site. The hybrid work environment requires IT to protect a multitude of devices and computing settings with an ever-expanding mix of tools and platforms to protect access to networks and data from bad actors.
Hybrid Environment Vulnerabilities
The hybrid model is a logistical challenge and potentially opens more access points for cyberattacks through vulnerabilities from unsecured home networks, outdated home Internet of Things devices, and the use of unprotected personal devices. And that's not to mention that workers may be switching between a remote work environment and on-site, carrying comprised corporate devices from their home networks to work environments and back again.
The new normal of the hybrid workplace comes on the heels of an increase in cybercrime during the height of the pandemic. In 2020, the FBI received almost 800,000 cybercrime complaints, representing a 69% increase over the year before. And 2021 has seen some very high-profile attacks. As a result, experts and law enforcement are calling for business leaders to re-examine their cybersecurity posture to make sure their organizations are protected.
"Remote employees are seen as an easy target by cybercriminals, complicating the new hybrid workplace, shares Chris Messer, Chief Technology Officer at Coretelligent. "Businesses should remain vigilant to cybersecurity threats and focus on strengthening their cybersecurity protocols with an eye on both on-site and remote access. As most breaches are caused by human error, focusing on end-user training, and creating a culture of cybersecurity awareness could significantly improve outcomes."
The solutions for hybrid cybersecurity are not static or one-size-fits-all. A completely remote workforce can be segmented to protect networks, but the hybrid workforce is much more difficult to defend. The security policies and security practices from IT need to be proactive and flexible to meet this challenge.
5 Recommendations for Managing Cybersecurity Risks in the New Hybrid Work Model
Strengthen Remote User/Device Security
To safeguard your network, your IT team needs to protect each user and every device with multi-layered protection—no matter where those users and devices are located. These layers of protection should include components like device management, a Virtual Private Network (VPN), enterprise-level web filtering, spam filtering, and more. The CoreArmor platform unifies essential security technologies into a single cohesive platform, providing protection across the entire environment, whether employees are on-site or working remotely.
Update. Update. Update.

Regularly updating VPNs, corporate network infrastructure, software, applications, and devices with the latest software patches and security configurations can help plug holes that cybercriminals can use to gain access to your systems. Cybersecurity protection is not a fixed function but requires constant maintenance to address potential vulnerabilities.
Access and ID Verification
If your organization is not already utilizing access controls and identity-management tools, both are simple solutions that can make a significant impact. The experts at Coretelligent recommend employing strengthened user verification controls, like multifactor authentication. Additionally, access control limits and manages which users can run, open, view, or edit systems and data.
Culture of Awareness
With most threats being introduced through email, users must understand their shared responsibility in protecting an organization's systems and data. Therefore, end-user security training and promoting good cybersecurity hygiene are critical components of the hybrid workplace's cybersecurity response.
Real-time Monitoring
The hybrid environment necessitates real-time monitoring of networks. Real-time monitoring allows your organization's IT team or managed service provider to prevent, detect, and respond to threats immediately to protect your assets.
At this early stage, it is difficult to say whether the hybrid workplace will be a lasting change or whether if it is only a temporary response to current events.  What you can count on is that the professionals at Coretelligent are available to help your organization with a wide range of IT solutions. If you have questions about configuring hybrid work solutions for your company, reach out by calling 855-841-5888 or email  info@coretelligent.com to schedule your complimentary initial consultation.