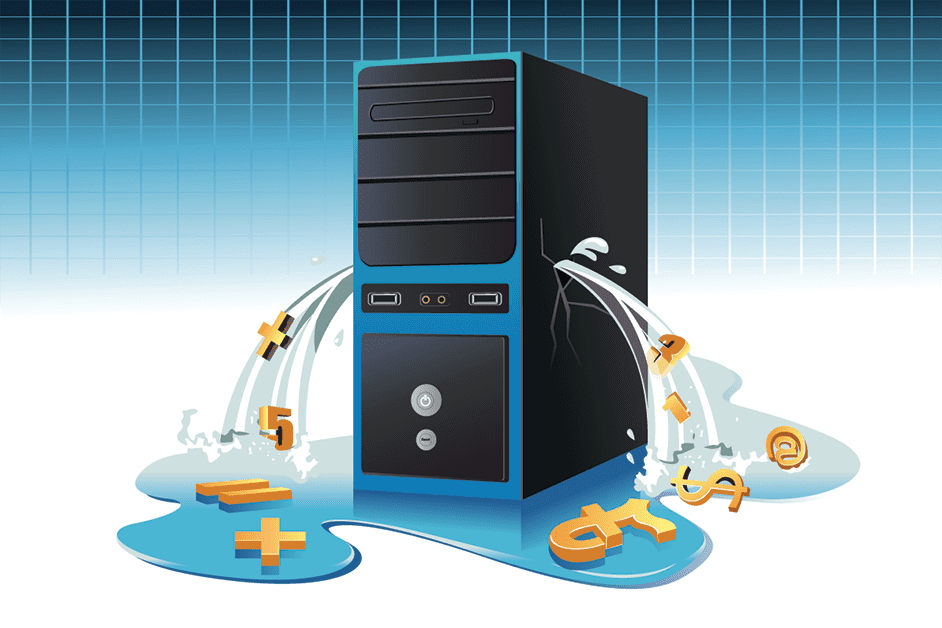 We all know how stressful it is to lose something. If you've ever lost your wallet, you know the consequences can drag on for some time. You need to contact your credit card companies and bank, request a new license, and update accounts with new card information. Even if everything works out, the fear of what happened to your lost information may last a while. Now imagine if you were an organization that lost hundreds of thousands of records containing personally identifiable information (PII) or personal health information (PHI). This year alone, several major companies like Marriott, Nintendo, and Intel experienced data breaches. Intel had 20 GB of proprietary data leaked, which included information on products that haven't been released yet.
Data loss can result from many factors, including internal and external threats, system errors, or even human behavior. Regardless of the cause, there are steps that your business can take to prevent data loss and reduce the length and overall cost of damages. The SEC's Office of Compliance Inspections and Examinations (OCIE) notes data loss prevention as a critical area in their report on Cybersecurity and Resilience Observations.
What is Data Loss Prevention?
Data loss prevention involves having systems, tools, policies, and training to prevent data from being misused, lost, or accessed by unauthorized users. Preventing data loss is especially crucial for businesses that handle sensitive information like personally identifiable information (PII), intellectual property (IP), and personal health information (PHI). IBM's 2020 Cost of a Data Breach Report found that PII was compromised more than any other data type. PII also cost businesses more, up to $175 per record.
For those in highly regulated industries, like financial services and life sciences, data loss prevention is required. Data management and security are crucial elements in FDA Title 21, CFR Part 11, HIPAA, Sarbanes-Oxley Act (SOX), FINRA, and SEC rule 17a-4. Keep in mind that many of these regulations require preventative measures, specific actions, and documentation in the event of a data breach.
The Cost of Data Loss
Whether you experience data leakage from an inside user or permanent data loss from a malicious attack, there are long term consequences. Decreased productivity, tarnished reputation, legal fees, and remediation expenses are only a few of the costs. For many organizations, it can take years to recover from the damage. Unfortunately, some businesses don't survive and are forced to close.
Even if you experience a breach, having a data loss prevention strategy can reduce the costs. The average cost of a breach is $3.86 million. Data loss prevention can reduce the overall cost of a breach by $164,386, according to IBM's 2020 Cost of a Data Breach Report.
Developing a Strategy
To meet compliance standards and secure your data, your organization needs to have a comprehensive security plan that includes preventative and responsive actions.
Develop Comprehensive Policies
When we think about cybersecurity and data protection, we often think of technology. Although technology is a significant factor in security, policies set the tone for the organization and provide guidance on which technology solutions are needed. A lack of policies and procedures can undermine even the best technologies.
Create an Asset Inventory
You can't protect your data if you don't know where it is. Develop an asset inventory that lists all of your data, where it lives, and how it's being protected. Be sure to note your critical assets and systems that would affect your business operations.
Assess and Treat Vulnerabilities
To understand how your organization could experience data loss, you need to be aware of what vulnerabilities exist in your environment. Run regular vulnerability assessments and penetration tests to stay on top of your current weaknesses.
Create and implement treatment plans for discovered vulnerabilities, e.g., patch management schedule, awareness training, and comprehensive policies.
Implement Access Control
Determine paths of ingress and egress for sensitive information. Determine who has access to sensitive data and implement the principal of least privilege to ensure that access is restricted to only those that should have it. Ensure access and usage are audited. Implement appropriate restrictions and logging at all points of egress. This may include digital rights management to protect sensitive documents even if they are distributed.
Conduct Security Awareness Training
Since risky human behaviors are among the top causes of data breaches, it's essential to conduct quarterly or semi-annual security awareness training. Training raises awareness and provides users with the skills to identify malicious emails and phishing tactics. It also teaches them what steps to take if they have received this type of content.
Implement Perimeter and Endpoint Security
Remote work isn't going away anytime soon. The perimeter of your network is no longer limited to the boundaries your office or datacenter. You need to ensure that you have total visibility into all incoming and outgoing network traffic, including your endpoints. Implement firewalls, endpoint protection platforms, and email security. These tools will give your IT team or MSP the visibility they need and the ability to respond to threats quickly.
Having a dedicated security team to actively monitor your environment around the clock allows them to respond quickly to suspicious activities occurring on your network.
Properly Dispose of Legacy Systems
Remove software that is no longer receiving security patching from the vendor. Ensure that all sensitive data is removed when disposing of outdated software and hardware. Use disposal or recycling vendors that provide a certificate of destruction.
Create a Backup and Disaster Recovery Plan
Unfortunately, even with the best security measures in place, data loss can be inevitable. That's why you need to have regular and tested backups along with a comprehensive disaster recovery plan. A plan will help your organization maintain business continuity and compliance while addressing a disaster or breach.
Staying Compliant and Protecting Your Data
Data loss can have a significant and irreversible impact on your business. Data loss prevention is an essential component of your overall security posture. To be compliant, you must secure and monitor your data continuously. New threats and vulnerabilities exist every day. It can be challenging to balance security, compliance, and day-to-day support. Coretelligent can help you whether you need a strategic partner to co-manage IT, fully managed IT support or comprehensive security solutions. We understand the unique needs of organizations in highly regulated industries like financial services and life sciences. Do you need help strengthening your security or have questions around IT compliance? We are here to help. Call us at 855-841-5888 or contact us.
Read our white paper to learn how you can maintain IT compliance in a digital enterprise.