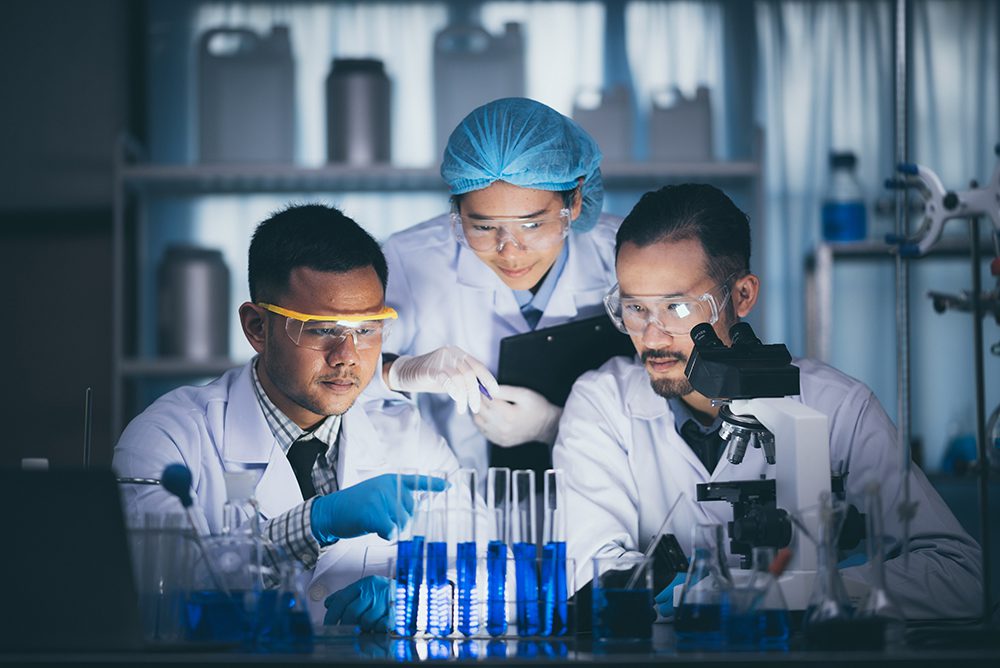 Maintaining a proactive technology stance will allow your life sciences organization to grow and be competitive in the fast-paced world of biotech, pharma, biomedical, and other life science startups. Companies that do not stay abreast of evolving tech could be missing out, and depending on how fast your business adapts, left behind altogether.
Technological change is accelerating at an increasingly rapid pace. As a result, it can be challenging for startups and small- to mid-sized companies to leverage emerging tech. In addition, not all tech trends are appropriate for all businesses, especially when it comes to information technology for life sciences. That is one of the benefits of partnering with an experienced and knowledgeable IT partner with experience in providing life sciences technology.
We constantly see lists touting the latest information technology trends to watch. However, it can be a challenge for leaders of drug development, medical devices, research and development, and clinical development companies, among others, to keep up with the latest and make informed strategic decisions about tech investments.
We've broken down some of the technologies of most interest to life science companies.
5 Technology Trends in Life Sciences to Watch
Hyperautomation
The growing use of artificial intelligence in business processes is having a powerful impact on the way businesses operate. One of the main results of this is hyperautomation, where businesses use automation technologies to speed up and improve their outcomes. Hyperautomation involves the automation of business and technology processes through AI, Machine Learning (ML), Robotic Process Automation (RPA), and various other tools and platforms. It allows businesses to program simple, repeatable tasks and creates opportunities for more intelligent automation.
Low-Code/No Code
Low-code and no-code allow non-developers to create custom solutions without specialized knowledge. Low- and no-code platforms typically use visual programming interfaces that enable non-developers to combine automated workflows or application and data integrations. Sometimes referred to as citizen development, these platforms allow enterprises to solve business problems faster and more completely than could be accomplished with full-on software development. This evolving technology is expected to support digital transformation in the healthcare and life sciences industry.
Networking, Connectivity, and Security for Distributed Work
Networking, connectivity, and security are key considerations for any distributed work model. Whether formalized or just a liberal remote work policy, protecting data and systems is essential. In fact, Ladders predicts that 25% of all professional jobs in North America will be remote by the end of 2022. This shift will top the priorities for IT professionals looking to balance collaboration and connectivity with security.
Privacy Enhancing Computation
Privacy-enhancing computation (PEC) consists of a collection of methods to improve data privacy. With most financial and medical records available online, data protection is critical for both consumers and the highly regulated industries serving them. With PEC, data can be shared without exposing or releasing the actual data to shared parties.
A number of techniques have exciting new applications across the business landscape, including multi-party computation, homomorphic encryption, and trusted execution environments. Without getting too far into the weeds about how these technologies work, the main takeaway is that PEC will transform how organizations share data and maintain compliance as the need to protect personal information and other data continues to grow.
Cybersecurity
Finally, the cybersecurity landscape is always evolving, and cyber threats will increase across all fronts, but two types of attacks will likely see increases.
First, businesses can expect to see more 3rd party and supply chain attacks, as well as vendor breaches. In addition, protecting users from multi-channel phishing will be critical. Phishing attacks will expand beyond email to include collaboration tools such as SMS and text, Slack, LinkedIn, Zoom, Microsoft Teams, and other platforms.
Additionally, the increased number of devices and locations accessing cloud-based data will increase the complexity of data security. Therefore, expanding the focus on good data governance and security will be crucial to protecting data and systems.
Technology Trends in Life Sciences and Your IT Strategy
While these are not the only tech trends of note, they are trends that we expect to impact the life sciences sector. We stay on top of emerging trends and work with clients as they need to better understand their impact on their industry and business.
As your life sciences firm scales, it is necessary to adjust your IT strategy accordingly. As a leading managed service provider with a focus on technology for life sciences and full IT lifecycle solutions, Coretelligent can help guide your business in determining what technology enhancements are appropriate to incorporate into your firm's IT strategy.