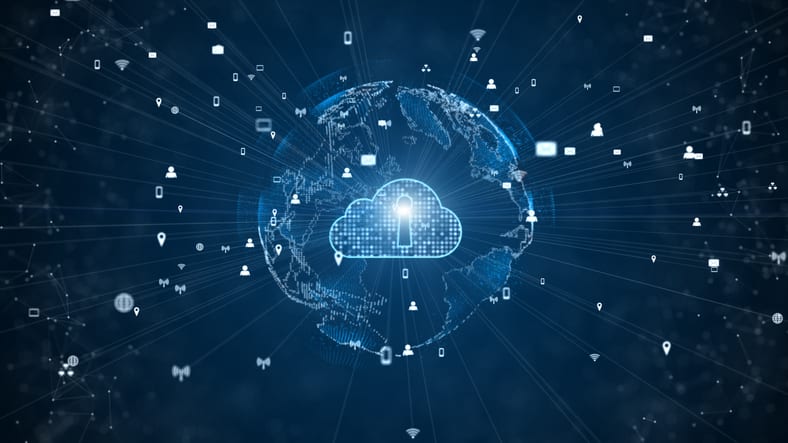 We have all heard the phrase "it's in the cloud." And you might be wondering where is the cloud, but the more appropriate question is how does the cloud work. Some think that the significance of cloud computing is the off-site storage of data and infrastructure. However, the most defining characteristic of cloud computing environments is not where your data and computing power live but how it is accessed.
With cloud computing, data can be found both on- and off-site—the key is how that data is accessed. With traditional computing, data needed to live on your hard drive, but cloud computing allows data to be stored anywhere because it is available to you via the internet. In short, cloud computing is defined as the on-demand access to data and computing power via the internet.
The Different Cloud Computing Environments
 The different deployment models within cloud computing environments can help us better understand the versatility and power of this approach to computing.
Public Cloud  
A public cloud is an open model that provides the most versatility for organizations looking for cloud computing and storage. With this approach, a cloud provider offers storage space and infrastructure to many clients accessible via the internet. The provider houses these resources, and maintaining those resources falls to them and not the individual clients. This model is cost-effective and easily scalable for small- to medium-sized organizations with lower privacy and regulatory requirements. Microsoft Azure is an example of a public cloud.
Private Cloud  
In contrast to the public cloud, a private cloud is controlled and maintained by one organization on a private network. The infrastructure can be housed on-site or off-site utilizing colocation services, but maintenance and security are the responsibility of the business itself. While there are higher capital and operational costs with this model, it is more suitable for businesses with tighter data security and regulatory requirements. CoreCloud is Coretelligent's private cloud service and provides organizations with more control and a higher level of support.
Hybrid Cloud 
As the name implies, this approach utilizes both private and public cloud computing. It is a customizable approach that allows for more flexibility and recognizes that IT solutions are not one-size-fits-all. The main advantage of this approach is to reap the benefits of the lower costs and scalability of public cloud computing but still utilize the private cloud for data and infrastructure that requires more control and security.
Choosing the Best Cloud Environment for Your Organization
Coretelligent offers Unified Cloud Management, which means we work with clients to develop a roadmap and customized cloud solutions to optimize performance and cost—whether you need public, private, or hybrid solutions. We are the experts, so you don't have to be.
Reach out to learn more about public, private, and hybrid cloud options.