With the increasing reliance on technology in today's business world, the risk of data breaches is at an all-time high, making breach detection a crucial factor in protecting sensitive data.
[ez-toc]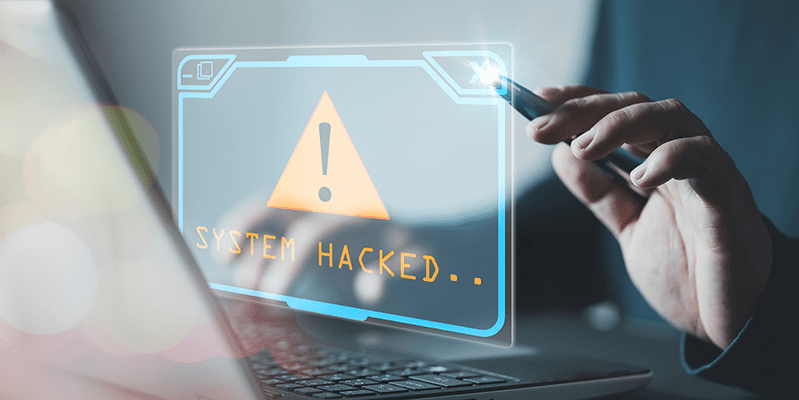 Detecting a data breach early on can help organizations limit the damages, preserve their reputation, and prevent further unauthorized access to their systems. Despite this importance, many businesses struggle to identify data breaches as they happen, only realizing something is wrong when it's too late. We outline some helpful insights about the importance of breach detection and the strategies they can adopt to improve their breach detection capabilities to protect their business before, during, and after a data breach.
Causes of a Data Breach
A variety of factors can cause a data breach, including human error, malicious attacks, and software errors. Human error includes misconfiguring security settings or sending sensitive data to the wrong recipient. Malicious activities, such as ransomware attacks or phishing scams, are escalating and increasing in frequency and can lead to unauthorized access to sensitive information or data loss. Additionally, software system errors or vulnerabilities can provide entry points for attackers to exploit.
The growing reliance on third-party vendors and the complexity of supply chains have also increased the potential for supply chain attacks, where attackers target a third-party vendor's systems to get access to valuable information. Therefore, understanding the causes of data breaches is vital for businesses to identify vulnerabilities and implement appropriate security measures to prevent them.
Data Breach Detection
The majority of data breaches are discovered by external sources, meaning that an external entity, rather than the affected business, was the first to recognize the breach. This makes it clear companies need to improve their data breach detection systems to monitor and detect potential breaches in real time.
With so many data breaches occurring every day, it's critical for organizations to stay vigilant and invest in the latest technologies, and to detect potential breaches as soon as possible. By prioritizing breach detection and response, businesses can mitigate the damage caused by a breach, protect their customers' data, and maintain their reputation.
Identifying High-Value Data
Identifying and securing high-value data is critical in protecting sensitive information from unauthorized access, loss, or theft. High-value data can include business trade secrets, intellectual property, financial information, personally identifiable information, and other sensitive information that could harm your business or customers if leaked or breached. To identify high-value data, a company must conduct a thorough inventory of data assets, categorize data based on sensitivity, and apply appropriate security controls to protect it from unauthorized access.
Effective security controls should include access controls, encryption, multi-factor authentication, and data loss prevention tools. Protecting high-value data may require additional resources and investment, but the potential cost of a data breach can be devastating. By prioritizing data protection for high-value data, businesses can minimize the risks associated with a data breach and build a trusted reputation with their customers.
Active Monitoring Processes
Active monitoring processes are essential for preventing data breaches and protecting sensitive information from unauthorized access. Active monitoring involves continuous monitoring of a system's security posture to identify potential threats, suspicious activities, or vulnerabilities. By proactively monitoring networks, applications, and data usage, businesses can quickly detect and respond to security incidents before they become full-blown breaches.
Active monitoring processes can include but are not limited to, security information and event management (SIEM) solutions, intrusion detection and prevention systems, network and endpoint protection tools, and data analytics platforms. These tools provide a holistic view of the organization's security posture and enable businesses to take timely action against probable security threats. Through active monitoring and timely response, organizations can prevent data breaches, protect sensitive information, ensure compliance, and maintain their reputation.
Rapid Remediation After a Data Breach
Rapid remediation is a crucial step in limiting the damage caused by a data breach. Once a breach has been detected, acting quickly and decisively to contain it and minimize the harm is essential. Rapid remediation strategies may include, among others, isolating affected systems, disabling breached accounts or systems, restoring from backups, identifying and removing malware or other malicious software, and conducting forensic analysis to determine the extent and root cause of the breach. The ultimate goal of rapid remediation is to lessen the severity of the breach and protect sensitive data from further exposure.
By responding to a breach quickly, businesses can reduce their financial and legal liabilities, safeguard their reputation, and mitigate operational disruptions. Effective remediation requires a well-defined incident response plan, including clear roles and responsibilities, thorough documentation, and continuous improvements in response to changing threat landscapes.
In conclusion, data breaches are becoming more sophisticated and prevalent, making breach detection an essential component of data protection strategies. Therefore, organizations must stay up to date with the latest technologies and adopt a multilayered approach to cybersecurity, including monitoring, training, and incident response planning.
---
Related Content
Looking to evaluate your organization's current security coverage? Use our Cybersecurity Evaluation Checklist to help you appraise your firm's cybersecurity readiness. This checklist is a jumping-off point to help your enterprise determine its ability to mitigate the risk of cyberattacks before it is too late.

---
Only by adopting a proactive, comprehensive approach can organizations hope to prevent significant breaches, mitigate their impact, and protect sensitive data. However, when it comes to data breaches, it's not a matter of if but when. Therefore, businesses must continuously assess their IT security posture and adopt proactive measures to detect and respond to potential breaches. Only then can they safeguard sensitive data, ensure compliance, maintain operations, avoid liability, and avoid the headlines.