Thoughts from Coretelligent's Chief Technology Officer,
Chris Messer
Whether your organization depends on Salesforce, Microsoft 365, or another cloud platform, cloud services help us collaborate and connect, regardless of our location, to remain productive and complete work assignments. This has been a tremendous boon over the past year as organizations have grappled with the COVID-19 Pandemic and post-Pandemic logistics.
As employees are interacting with cloud data and services, there are limitations to the control we have over the service and data.
Some failure scenarios that can be challenging to recover from may include:
An employee inadvertently deleting a large subset of their email data
A third-party app connected to Salesforce deleting all your customer records
A former employee's account deleted without transferring their data to a new owner or location
The "3-2-1 Rule" has the basic premise that data should be stored and backed up on-premises, in the cloud, and in remote locations, so that a corruption of one data store will leave two separate data stores available for restoration. While the traditional interpretation of the "3-2-1 Rule" says there should be two local and one remote copy of data, in a cloud-centric world, multiple copies in multiple clouds can suffice to provide appropriate data protection.
Vendor Validation and Due Diligence
As with any vendor selection exercise, cloud vendors require the same level of diligence and auditing. Before committing to any cloud-based service or data storage platform, be sure to audit the vendor and understand what level of backup, data protection, and disaster recovery options they provide.
This will ensure that you have a clear understanding of any shared responsibilities and what additional protections your organization may want to put in place to supplement protections or capabilities the vendor may provide. To learn more about the vendor due diligence process, download our guide here.
Microsoft Cloud and Backup Protections
With the growing popularity of the Microsoft cloud stack over the past few years, and with accelerated adoption coming from the pandemic and remote work operations, many organizations may fall into the trap of thinking that Microsoft has their data completely protected.
Unfortunately, moving to the cloud does not mean that someone else now has responsibility for your data. Microsoft 365 customers are still responsible for their own data, just as if they were managing their own on-premises email and collaboration solutions.
Microsoft does backup data, but their protection is part of a shared-responsibility model. That is:
They have physical security in their data centers
They offer data storage replication and redundancy
The core tenets of their security approach include guarantees of uptime and privacy controls
To learn more about Microsoft's and other providers' shared responsibility models, download our guide here.
Microsoft will protect you from natural disasters that affect their data centers, hardware, or software failures on their part, power outages, operating system errors, and more. But if an end-user mistakenly deletes a critical file, then what?
Microsoft Exchange, their email service product, may also experience disrupted service availability. Details on how Microsoft backs up your email can be found here.
A helpful illustration of this shared responsibility model is below, courtesy of Veeam. Veeam software powers the CoreBDR backup platform offered by Coretelligent.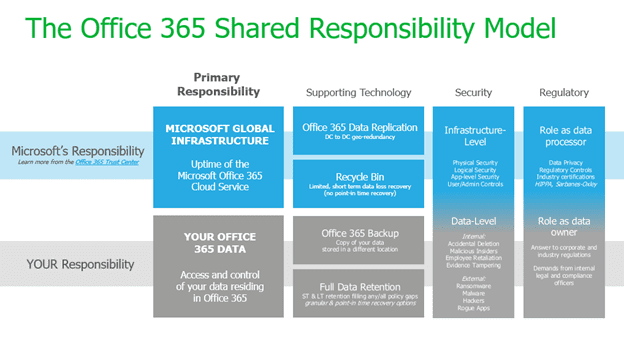 You will need your own data protection solutions in addition to any that are provided by Microsoft. Again, it is not that Microsoft does not provide some level of data protection, but your data is extremely valuable, and you need to ensure that it is protected from any and all potential deletions or undesirable modifications. Data protection can be on-premises and/or in the cloud, but it needs to be managed separately from the 365 infrastructure to ensure the highest level of protection.
Third-party backup solutions are a great way to protect against accidental or malicious file deletion, other user errors, ransomware, and data corruption. These solutions store backups independently from Microsoft servers and enable granular restores of your emails, files, folders, and more.
Ultimately, you are responsible to protect your data from human error (due to malicious activity or innocuous accidents), misconfigured workflows, hackers, and viruses. Backing up your users and data is truly your responsibility and if you are not proactive about that, any help you get from Microsoft in times of crisis is minimal at best.
Coretelligent's Solution
Coretelligent's CoreBDR service is a fully managed, cloud-based data protection and disaster recovery solution. Your data will be safe with fast and efficient, cloud-based backups and data encryption to protect at the source. It is essential for your small- to mid-sized business to invest in backup solutions to be prepared for any inevitable or impending disaster.
Our team of experts has over a decade of experience providing backup solutions. Protect your data and enhance business processes with Coretelligent's support. Schedule your complimentary, initial consultation today before getting started.