Learn how SharePoint can enhance your productivity and how Coretelligent can help you level up.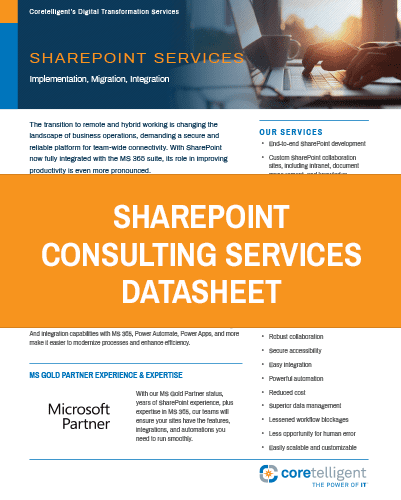 Submit the Form to Download the Datasheet →
A dependable and secure platform that facilitates team connectivity is becoming more crucial as businesses shift towards remote and hybrid working models. SharePoint can help play a significant role in boosting productivity. If you are a Microsoft customer who has not yet capitalized on the advantages provided by SharePoint, this datasheet is for you!
Learn how Coretelligent can aid in developing a custom strategy that can enhance collaboration and streamline workflows thanks to our SharePoint consulting services.
In our SharePoint Consulting Services datasheet you will learn:
What is SharePoint and how can it help your business?
What are the benefits of SharePoints?
What services can a SharePoint consultant bring to the table?
Why Coretelligent is the best fit to help you gain productivity and efficiency for your team.