Data is the new currency in today's business climate, and data governance ensures that your company has a secure and organized system for managing this invaluable asset.
Corporate data governance is how an organization manages, analyzes, and leverages data to make business decisions. At its core, business-led data governance combines people, processes, and technology to create and execute standards that ensure data within an organization is accessible, usable, consistent, reliable, and secure.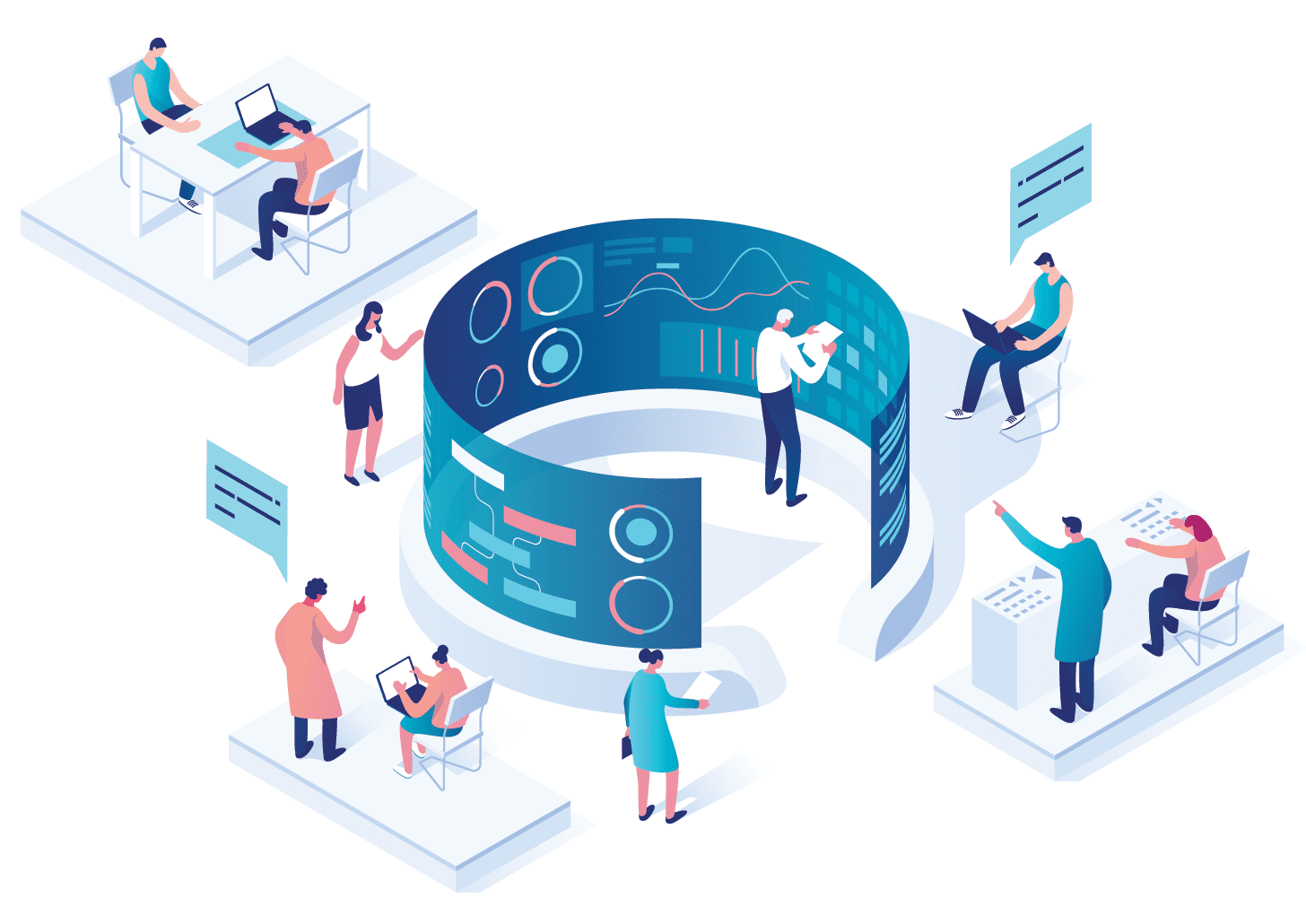 ---
Key Takeaways:
Data governance combines people, processes, and technology to establish standards that ensure the accessibility, usability, accuracy, trustworthiness, and protection of data in a business.
Data management is the storing, maintaining, protecting, and analysis of data that functions under the policies and procedures dictated by data governance.
A data-driven enterprise's policies and governance principles should ensure all company information is under control and used effectively.
---
What is a Data Governance Program?
A data governance program is one step toward digital transformation that combines people, processes, and technology. The primary goal is to guarantee reliable access to data so it can be effectively leveraged. To support these goals, the governance team manages user access and ensures that enterprise stakeholders have what they need when they need it. In addition, the goal of a control program is to protect from data loss, corruption, inaccuracies, and unauthorized access.
---
Related Content → What is Governance, Risk, and Compliance?
---
How Does Data Governance Fit into Data Management?
Data governance is a method for managing the roles, responsibilities, and processes of data assets, while data management is the operation concerned with the quality and accessibility of data. Data management includes the storing, maintaining, safeguarding, and analyzing of data that follows the policies and protocols put in place by governance. If data management comprises the tactics, then data governance encompasses the strategy. One comes before the other.
---
Related Content → Learn more about Data Management.
---
What are the Key Components of Data Governance?
People, Processes, and Technology
People
It is critical to understand that data authority is not just IT's domain. It should include people throughout an organization in the data management plan, including executives, IT professionals, and various other stakeholders within the enterprise familiar with relevant data structures. Having key people involved increases buy-in from end-users and increases the likelihood of leveraging the organization's data. Organizations typically staff data managers and other IT pros to execute hands-on implementation. Some organizations include Chief Data Officers as part of their C-suite to play the lead advocate for their data governance program. Additionally, businesses will often create a committee with representatives from different areas of the organization. It is through this body that enterprise collaboration comes into play.
Process
In data governance, the process is where the work happens. Thus, governance processes are the connective tissue within the practice of governance. From establishing, implementing, and evaluating policies and procedures to measuring and reporting, applying the governance protocol combines a series of careful steps designed to support the organization's mission and goals.
 Technology
Finally, if people are the who and process is the what, then technology is the how. Technology provides the tools and the infrastructure to support an organization's data program by maintaining accessibility, security, reliability, quality, and more.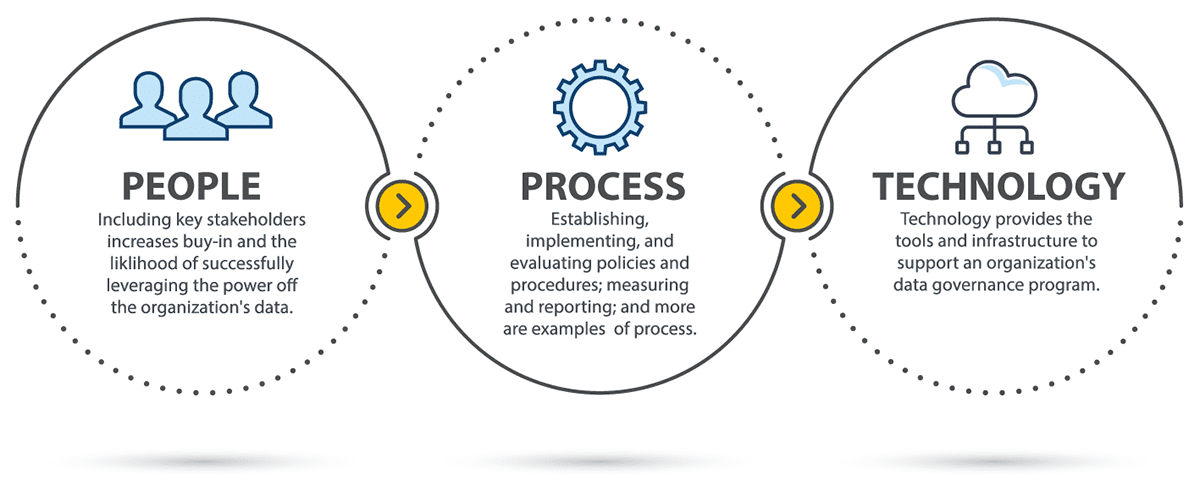 ---
Why is a Good Data Governance Program Necessary?
Improve Efficiencies, Reduce Costs, and Increase Revenue
A primary goal of data governance is to eliminate data silos that can occur in an organization. When data silos build up, they can inhibit the flow of information and make sharing knowledge difficult. It is a collaborative process that recognizes the value of data. It aims to break down barriers by harmonizing data within an organization through the collaboration and coordination of enterprise data architecture implementation. Ideally, this process will lead to competitive advantages and increased revenue and profits.
Increase Compliance and Reduce Risk
Another goal is to ensure that data is compliant. That can be accomplished by creating uniform policies and procedures to monitor usage and include enforcement to eliminate risk from data loss and other issues. In addition, data governance can help to strike a balance between data collection practices and privacy mandates.
---
Data Governance Simplified
On the whole, data governance is the practice of securely managing data so an organization has the business intelligence needed to meet targets and fulfill business goals. A data-driven enterprise's policies and governance principles should ensure all company information is under control and used effectively.
DOWNLOAD OUR GUIDE → Best Practices for Enterprise Data Governance
---
Data Solutions
Coretelligent partners with a multitude of technology partners to provide next-gen cloud-based file sharing and collaboration. Building upon this foundation, Coretelligent adds its experience, know-how, and support to offer powerful controls for data management. Our approach allows your enterprise to maintain simplicity and usability for your workforce. Providing guidance and support is just part of what we at Coretelligent offer our clients.
Coretelligent's solutions include IT planning, 24/7/365 support, cloud computing, cybersecurity, disaster recovery readiness, and more. Connect with us to learn how we can assist you with your data governance or other technology solutions.