This article is the first in a series of posts in which we will share the ins and outs of data governance and why it's even more important than ever in today's business landscape. To that end, we are answering the question "What is data governance?" with this first post.
In the meantime, if you don't want to wait for future posts, you can download and read our Best Practices for Good Data Governance Guide.
What is Enterprise Data Governance?
In short, corporate data governance is how an organization manages, analyzes, and ultimately leverages data to make business decisions. At its core, business-led data governance combines people, processes, and technology to ensure that data within an organization is available, usable, consistent, reliable, and secure. A governance plan supports compliance and provides the tools for improved C-suite decision-making.
To support these goals, the governance team is responsible for managing user access and ensuring that enterprise stakeholders have what they need when they need it. In addition, the goal of a control program is for protecting data from loss, corruption, inaccuracies, and unauthorized access.
People, Processes, and Technology
People
It is critical to understand that data authority is not just the domain of IT. Ideally, people throughout an organization should be included in the data management plan, including executives, IT professionals, and various other stakeholders within the enterprise familiar with relevant data structures. Having the key people involved increases buy-in from end-users and increases the likelihood of leveraging the organization's data.
Accordingly, some organizations include Chief Data Officers as part of the C-suite executives to play the lead advocate for their governance program. Organizations usually also staff data managers and other IT pros to execute hands-on implementation. Additionally, the people structure is likely to include a committee that includes representation from across the organization. It is through this body that enterprise collaboration comes into play.
Process
In data governance, process is where the work happens. Thus, governance processes are the connective tissue within the practice of data governance. From establishing, implementing, and evaluating policies and procedures to measuring and reporting, the application of the governance protocol is a series of careful steps designed to support the organization's mission and goals.
 Technology
Finally, if people are the who and process is the what, then technology is the how. Technology provides the tools and the infrastructure to support an organization's data program through maintaining accessibility, security, reliability, quality and more.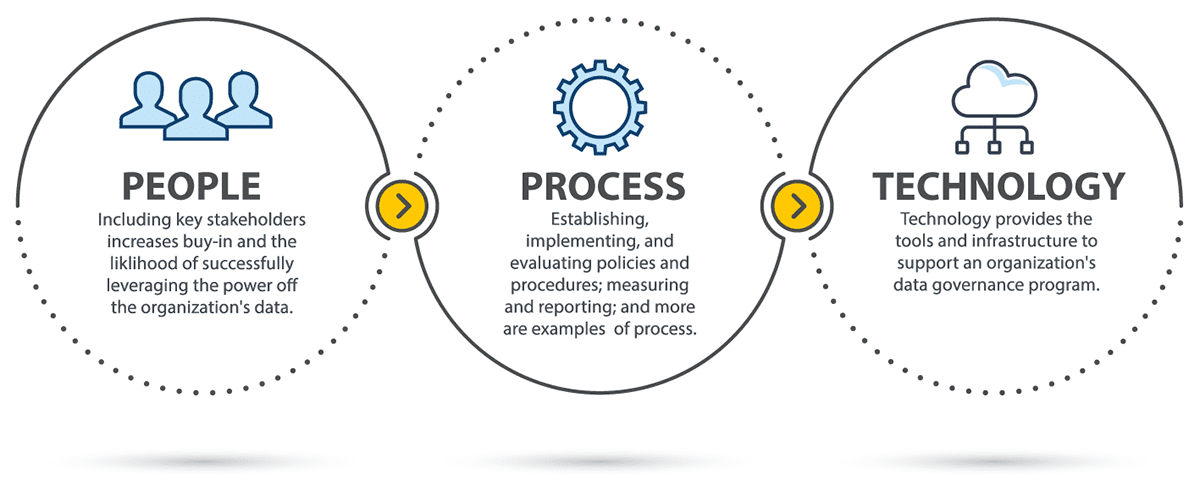 Data Governance Simplified
On the whole, data governance is the practice of managing data, so an organization has the business intelligence needed to meet targets and fulfill business goals. A data-driven enterprise's policies and governance principles should ensure all company information is under control and utilized effectively. If you are looking for more guidance on setting up a successful enterprise program, we have put together a guide that provides valuable insight on this subject.
Data Solutions
Coretelligent partners with a multitude of technology partners to provide next-gen cloud-based file sharing and collaboration. Building upon this foundation, Coretelligent adds its experience, know-how, and support to offer powerful controls for data managment. Our approach allows your enterprise to maintain simplicity and usability for your workforce.
Providing guidance and support is just part of what we at Coretelligent offer our clients. Our solutions include IT planning, 24/7/365 support, cloud computing, cybersecurity, disaster recovery readiness, and more. Reach out to learn about any of our technology solutions.