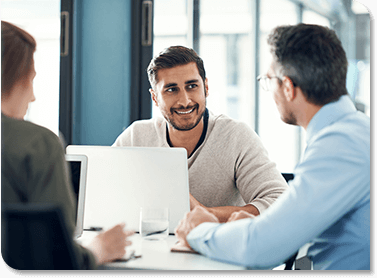 Acronyms are a part of many industries—like in the military, healthcare, and real estate, among many others—and information technology is not to be left out. But the use of acronyms and other specialized IT terms can make it more difficult for executives, who are not IT professionals, to make decisions about spending on IT.
Here are some of the more ordinary IT terms you might encounter when considering adding managed or co-managed IT to your business operations with managed service providers like Coretelligent.
7 Common IT Terms You Should Know
SaaS – Software as a Service has become the dominant way for enterprises and individual users to access the applications they need. Instead of installing and maintaining software directly, customers can lease access from a provider that manages all aspects, including security updates, access and availability, and performance. Using this internet-based delivery model, users can get away from complex management systems and leave that to the provider.
RaaS – Ransomware as a Service utilizes the same business model as SaaS but for nefarious purposes instead. With RaaS, a criminal group creates and leases malware to other cybercriminals who then use it to hack a victim organization's data, encrypt that data and demand a ransom. The ransomers pay for the use of the malware, just like a legitimate business might pay for a subscription to use Salesforce, Microsoft, or Amazon Web Services.
RMM – Remote Monitoring and Management software or network management software is a remote IT monitoring software that allows MSPs to monitor clients' endpoints, networks, and computers remotely. With RMM in place, the service provider can easily roll out patches and updates across a client's environment while also installing new applications with ease.
SIEM – A Security Information and Event Management system monitors an organization's IT environment for potential threats. Coretelligent's SIEM is a solution designed to monitor infrastructure, networks, files, and data, and it is just one component in our CoreArmor solution. It detects threats by picking up on trends, telling us when there are changes in behavior that might be suspicious or dangerous to your organization's interfaces and security
SOC – A Security Operations Center is capable of monitoring, preventing, detecting, investigating, and responding to cyber threats in real-time to protect your assets. A SOC allows your organization to mitigate the risks of cyberattacks preemptively and limit the risk of damage. It is a necessity in today's cybersecurity climate, and it is the power behind your cybersecurity protection.
EDR – Endpoint Detection and Response brings together real-time monitoring with endpoint data, allowing organizations to respond to threats while also stopping malicious activity in its tracks. Coretelligent's CoreArmor solution features EDR's around-the-clock protection against suspicious activity. It delivers a high level of defense from threats while also collecting quantifiable endpoint data for practical analysis after an attack and preventing attacks altogether.
vCIO – These days, many businesses realize that they can benefit economically and strategically from outsourcing many of their IT needs. One way this is happening is through a Virtual Chief Information Officer. A vCIO differs from an in-house CIO because they only provide consultation for your technology strategy instead of overseeing all of it themselves.
About Coretellligent
Led by first-rate IT experts, Coretelligent offers White Glove services covering a full range of technology needs: 24x7x365 Customer Support, Cloud Services, Backup and Disaster Recovery, and Cybersecurity Protection. As a result, leading-tier organizations in the financial services, life sciences, technology, legal, real estate investment, and professional services sectors turn to Coretelligent to maximize their technology return on investment.